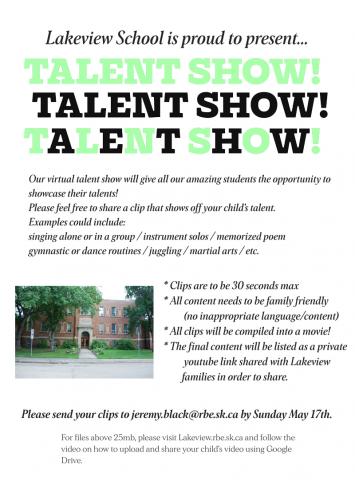 We are hosting a virtual Talent Show at Lakeview! We are hoping this will give all students an opportunity to showcase their amazing talents in a fun, safe way.
We are asking for a 30 seconds or less clip of your child showing one of their talents. 
Please ensure that all content in the video is suitable for all ages.
Please use your smartphone or an iPad to record the clip, and when finished please send it to 
jeremy.black@rbe.sk.ca
If the file size is too large, or your device won't allow you to share the clip over mail, please upload and share your video through the following steps:
1) Download Google Drive on your smartphone/ipad
2) Sign in to Google Drive with your child's RBE account
3) Watch the following video on how to upload and share the clip
All clips received will be compiled into a video that will be uploaded to youtube. The video will be listed as unlisted, and a link to access the video will be shared with all families.
The deadline for all submissions is Sunday May 17th.